Until December 3, 2017 I thought I had a Spiritual 'handle' on Christmas, and my method of teaching my children it's true meaning. But four messages capsulized below revealed the fragility of my grip.
I learn best by listening to audio messages then transcribing them, of which most of this blog site is composed.  This one is an excerpted composite of four separate sermons given by Pastor Dan Borget, at Kirkmont Presbyterian Church in Beavercreek, Ohio.
What follows is a 'labor of love' which I intend to apply not just at Christmas, but every day for the rest of my life. I hope you will join me in in this venture to sharpen our "swords" and put on our "full armor" because Christmas has become a battle… a battle between two competing stories: one that is seductive and attractive but fundamentally untrue; and the other that is deeply humbling but what every person everywhere needs.
Week 1 – WORSHIP MORE FULLY
AUDIO (30 min):

Worshipping Jesus Christ More Fully
In that past I thought I was fully celebrating Christmas by teaching my children that it was about GIVING, not receiving presents. Then I realized that while there's nothing wrong with giving each other gifts, we're not giving them to Jesus. Imagine a birthday party in your honor where everyone gave their gifts to each other, but none to you.
The very first Christmas was filled with WORSHIP–the worship of baby Jesus. Perhaps the closest thing we have in our culture of worshipping someone or something are images of people at a concert… and that teen star, or that super handsome young man or beautiful woman comes out on stage. We can picture groups of people pushing their way to the front, reaching their hands up, longing to touch them in some way, crying that they're finally seeing this marvelous person in person — worship.
Or consumerism 'worship'–the new iPhones come out, people in line for days, camping out, and they finally get their hands on the new one, and they're crying over it, or they are crying because they didn't get one… perhaps that idea of 'worship'. But when one thinks about people in the church worshipping… well, it's just different to most people.
When the Magi came, their level of passion and enthusiasm to worship this baby, this child, the KING OF KINGS and LORD OF LORDS… doing something like this in public is something that would make many of us very uncomfortable.
I used to think I was showing the world I knew that I was zealous by saying "Merry Christmas" (not 'happy holidays').  I'd even write 'Merry CHRISTmas" with Christ in red, and put the manger scene in my yard because after all "I knew what Christmas is all about.
And while those are good things, I was still not worshipping fully as the Maji did.
It's possible to do all the things on the surface that show we understand Christmas intellectually, but never move into this place the Maji did.
Like what's happening today, King Herod wanted to introduce a new story to hide the real story; he wanted to kill baby Jesus and hide the truth of the Christmas story from the world around him. And while we may not have a King Herod walking around in the American culture today, we do have an evil one who has introduced a different story for the purpose of concealing the real story.
Warning: Christmas Is Coming!

"There's an ongoing WAR which will define our children's beliefs about who they are, what they need, and what their lives are about.  We must ask ourselves, will they experience the true Christmas Story, or the one our culture has introduced?

The war signs are already appearing, and we should consider ourselves warned. Our family is about to be attacked. Not physically by terrorism or fire… no, this attack is much more subtle, seductive, and attractive, but infinitely more dangerous.

Our family is about to be attacked by a holiday season which should be a peaceful time of remembering God's response to his lost and rebellious image-bearers. That response wasn't to condemn, but to give the ultimate gift—the gift of himself—in the person of his Son. But instead of a peaceful season of worship and celebration, it has devolved into a spiritual war with our family at the center.

There's nothing wrong with beautiful decorations, family feasting, or giving gifts. The Christmas season can be a time when families gather again, renew relationships, and express love for one another. But we should be concerned because there is a war for which story will define our children's beliefs about WHO they are, what they need, and what their lives are about.

FALSE CHRISTMAS STORY
The "Christmas story" our culture tells our children puts them at the center instead of God. It looks to creation for fulfillment rather than worship of the Creator. It makes physical pleasure our primary need rather than the rescuing intervention of the Redeemer. It's dominated by the comforts of the moment rather than eternal priorities.
In every way, the story our children will hear over and over again during this season is dangerously wrong when it comes to who they are and what they need. It calls them to find comfort where comfort can't be found, to place their hope in things that will never deliver, to think they can accomplish what only the Messiah can do.

TRUE ADVENT STORY
But unlike this false "Christmas story," the true "Advent Story" is humbling and unattractive. It's a sad story about a world terribly broken by sin, populated by self-centered rebels who are willing participants in their own destruction. It's about beings created to live for God but who in every way live for themselves. This story is about the dethroning of the Creator and the enthroning of his creation. It's about conditions so desperate that God did the unthinkable, sending his Son to be the sacrificial Lamb of redemption. And why did Jesus come? Because we were so lost, so enslaved, so self-deceived that there simply was no other way.

Until our children hear and understand the bad news, the good news won't be attractive to them. The news that Jesus came on a glorious mission of grace to live, die, and rise in our place is only worth celebrating when you understand it's our only hope.

FIGHT THE REAL WAR
The battle of Advent isn't about whether we should sing silly seasonal tunes versus gospel carols, or have worship times versus big family feasts. No, this war is about what story of identity, need, meaning, and purpose our children will believe and give their hearts to pursue.

Life really is a battle of stories, and the battle rages most fiercely when the true story is meant to be told most loudly.

So enjoy the gifts, the decorations, and the delicacies, but start preparing our family early this year for the battle to come by telling them the true story. Before you begin to get distracted by all the traditions of holiday fun, take up the battle for the hearts of your children.

5 WEAPONS TO USE FOR THE WAR OF THE HEART
Here are five ways to help our children focus on the true Advent story:
1. Start early.
We can't start early enough or tell the true story often enough, since the false story is everywhere to be heard. Don't wait until Christmas Day to point your family to God's Word.

2. Tell the bad news.
Protect your family from fake news by telling them of the bad news: their sin and separation from God. Good news isn't good unless it's prefaced with bad news, and redemption becomes beautiful when we understand the depth of our need.

3. Warn them about the false story.
Enjoy traditions and fun, but take opportunities to point out how and why the false story your children will hear again and again isn't true.
I learned that whether we realize it or not, there's a battle for the souls of children. It's between the illuminated brilliance and 'present' presence of the world's false Christmas… and the real story of Christmas.

If we're trying to uphold both stories, the cultural one is going to win–especially with a four-year-old child for example. While fun, the false story is going to make a more indelible impression on than the real one.

Santa Claus is an example. We don't need to avoid his name, or talking about him to our children, but we also don't want to pretend that he's real. We can treat him like Dora the Explorer… we watch her on television, but she's not real.

Below I've scanned a book I read to my students every year. Perhaps you'll find it useful in your understanding too. https://www.facebook.com/levans999/media_set?set=a.10150470684698819.384262.580248818&type=3

4. Present Jesus as the gift of gifts.
Express love by giving gifts, but remind your children that creation can't satisfy, and that our only hope is found in one Gift—the person, presence, work, and grace of Jesus.

5. Embed the Advent story everywhere.
The Advent season gives you a wonderful opportunity to help our children understand themselves and everything in their lives from the vantage point of the birth, life, death, and resurrection of Jesus.

The Advent story tells them who they are, what they need, and what their lives are about. This story is the only reliable way they will ever make sense out of the story of their individual lives.

Nothing is more important than helping your children understand that the grace of Jesus shines brighter than any gift the world has to offer. It's a light that will never go out and will never be put away."
SOURCE:
https://www.thegospelcoalition.org/article/warning-christmas-is-coming/
AUDIO (of above 30 min):

"ADVENT CONSPIRACY INTRO VIDEO" played in audio link above (3 min)

Week 2 – SPEND LESS
SPENDING LESS
The second thing I learned was that I need to spend LESS on material things and spend MORE in the currency of TIME with others.
1. We should spend less at Christmas because we don't honor Jesus' birth by buying temporary things.
 For those of us who've come into a relationship with Jesus Christ, it's the most life changing thing we've ever experienced–we wouldn't change it for the world. It's not only radically transforms who we are now, but who we will be for all of eternity.
And there's nothing that someone else could give us at Christmas that would even come CLOSE to not only rivaling it, but even even being in the same ballpark. The temporary stuff we get for Christmas really just doesn't even match the occasion.
2. We should spend less at Christmas because we don't honor Jesus' birth by buying so much that we go into debt.
Realizing the amount of debt we're willing to go into in order to somehow please our spouse or our children or grandchildren, we may see that we've actually made little gods out of them. And so we don't honor Jesus' birth by buying so much that we go into debt.
3. We don't honor Jesus' birth by buying each other gifts.
Again, imagine at your birthday party everyone else received gifts but you.
When God acted in history to ensure that his people were freed not just from physical slavery, but from spiritual slavery, He instructed us not to do anything that would overshadow that. Ultimately when we fill our Christmas with presents for each other it doesn't do anything to remember God.
4. We should consider spending less this Christmas so that we don't honor Jesus' birth by BUYING our children another Christmas story.
Eventually present after present after present just becomes stuff after stuff after stuff… and eventually all that stuff becomes stuff that competes with the real story of Christmas.
Which one is a six year old going to walk away with and remember?
Do we really want them to remember that at Christmas they got a certain toy? Is that life changing? Can we save our own kids? Have we ever died on the cross for them? Is the new sweater, the is the new game… are any of those things going to get them through life? 
None of it will.
But a precious powerful transforming relationship with Jesus Christ absolutely will every single time… and so that's what we should impress upon our children. 
AUDIO of above (26 min)

Week 3 – GIVE MORE:
AUDIO (26 min):

GIVING MORE
Scripture shows that in his travels, Jesus was always pausing and stopping if only for a moment to give people true relational time.
He shows his relational character through those with whom he engaged–they were the social outcasts of society, those who other people had deemed unfit for a relationship. Jesus invests in those people.
God is a relational God… and we see it never more clearly than in the story of Christmas when he comes to be amongst us. His gift to us is a gift of himself.
So how do give more and still spend less? …

by giving more of ourselves relationally in the currency of time.
God gave himself relationally at Christmas and so should we.
Shut-ins, or those living in retirement homes, for example, have more years behind them than they do ahead of them. What dominates their memory is not the stuff that people bought them throughout their lifetime, but rather their memories are flooded with precious times they've spent with people whom they love and cared about. 
On the other side of the coin, the majority of regrets they might be carrying with them over the years are not centered around things that they didn't buy people, but rather regrets with the time they didn't spend with people.
Adding to all that, the relative little effort it takes to give quality time with people shows the value of the "currency of time".  
We model the character of God when we make the transition and are spending less on presents and spend more on giving ourselves away relationally to one another.
"QUALITY TIME"
Yes, time is the most effective currency that we have to express and demonstrate love towards one another, but it would be almost irresponsible not to mention one other aspect that might be keeping us from giving ourselves away relationally with others and that would be the whole idea of technology.  Think about often technology allows us to be partly but not fully present.. and ultimately and then fall short of giving yourself away relationally.
Some images to consider when we think about technology…
Our modern culture paints this illustration that when we walk around with our phone, it's like the end of our world… we don't see what we're missing.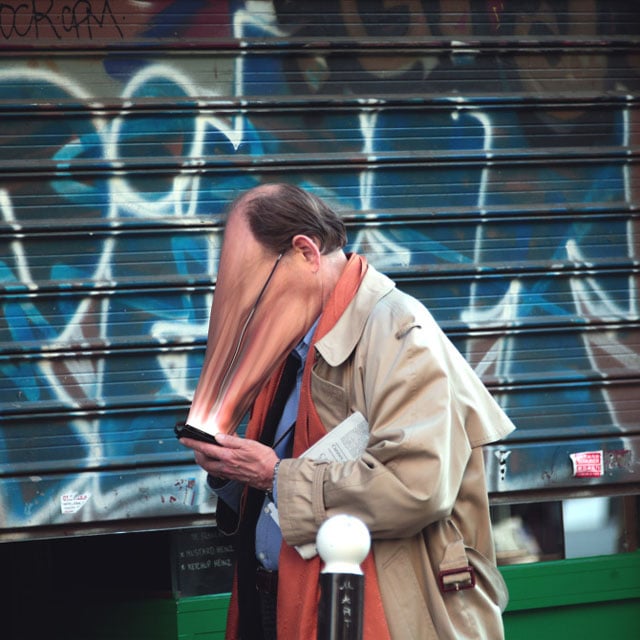 Some of us may be tempted to blame the whole idea of being distracted just on modern technology, but this next picture will add perspective.
While our obsession with the cellphone is part to blame, it's not just the cellphone. The cellphone just draws out an aspect of the broken condition inside each of us. I makes it easy, to use that part of our brokenness.
The top picture reveals that it's ingrained in us as part of the enemy who would love to keep us isolated and out of these wonderful intimate relationships… that God has come and died for to restore.
God's people are are relational people, and we give ourselves away relationally. It's the cultural norm not to be present relationally … and this message is to encourage us to be counter-cultural, and not settle for some in-part giving of ourselves–but to be fully present in the moment… not just be there physically, but when we're there to put the phone down, put the whatever down and invest in one another's lives–to give ourselves away to them as God has given himself away to us.
AUDIO of above (26 min):

Week 4 – LOVE MORE
AUDIO (31 min):

LOVE MORE
The humble circumstances of Jesus' birth reveal that all_are_loved, and we are to love ALL… four examples that point to the humble circumstances of Jesus' birth:
1.  MARY
The Bible says Mary, mother of Jesus, is a servant, a humble servant from humble circumstances who focuses on the reality that she is not up on the throne of a person of great significance and importance and her society in the fact that she's relatively poor.
God takes our normal social order and construction, and flipping it completely upside down and saying he brings down those who are rulers and rich and lifts up those who are poor and not considered significant in society.
The birth of Jesus Christ and his humble circumstances reveal that no one is below his love–the fact that he was born to Mary and Joseph in these circumstances is reassuring.
Some of us grew up with parents that we would consider to be in very humble circumstances by the way that we were raised. But it's reassuring to realize that those things don't disqualify us, in fact nothing about who our parents were disqualifies us, or put us below the line of being a part of God's rescue mission.
2. BETHLEMEN
The fact that Jesus was born in Bethlehem points to his humble circumstances.  Bethlehem was a very humble city of no real significance and yet God chooses here for Jesus to be born. 
In today's culture we would call this "the wrong side of the tracks" or from the "South" or the "Eastside".
Bethlehem lies not in the city of itself but in the one who are to be born in the city because the one who would be born is born into a city that is otherwise a very humble city and of no suit real significance and yet God chooses and here of all places to be born today in our culture society we have expressions like oh he was born on the wrong side of the tracks or she's from the wrong side of the tracks or oh he's from the south side or I don't go over to the east side.
We have you know all these associations about people, or where they're from, and we realize right that sometimes those things actually get in the way of ability to love and how we perceive people… and Christmas just comes along and reminds us that all of that just gets flipped upside down–that no one is below the rescue mission of God. No one falls below the line of God's love,
3. MANGER
The manger points to the most significant of the humble circumstances surrounding the birth of Jesus Christ.
Most likely Joseph, and all of his other relatives who had moved away and now were required to go back to Bethlehem, most likely they would have gathered together in a family home of some kind at some relatives who were still living in Bethlehem.
When you consider that relatives would have opened up their homes to them, and now you start thinking about it, it starts to feel really weird because which one of us would tell them, "No, you must sleep outside."
Even if our bedrooms are full we'd let them sleep on the floor or the hallway, unless… they had brought disgrace to our family, and they included a child… a young woman who was pregnant outside of wedlock, and letting her come into the family home was not a good idea.
And so most likely scenario is that Joseph and Mary are turned away, not just because there's like no place literally to put them in the family home… but because there's no room for them.
And so then you add in not just the physical dimensions of the humble state of Jesus's birth, but the reality of us parents at the very least whether they are rejected by their family in this moment or at the very least alone.
4. SHEPHERDS
And then finally the shepherds invited to the birth of Jesus. Shepherds were social outcasts of their day. As they travelled and moved about they would often supplement their low wages with thievery and stealing. And so they had a reputation for being cheaters and stealers and so that eventually led to the place in society where they couldn't even testify in court. or serve as a witness in the legal judicial system because they were considered such an unreliable group of people… and yet they're the first ones who go and visit Jesus after his birth and the first to go out and tell other people about his birth.
This isn't by accident.
God is flipping our societal norms completely upside down through the birth of Jesus Christ.
A modern parallel could be someone who's been in prison for crimes. But through maybe just good enough behavior have been allowed to be in some sort of a work program. Prisoners who are out on the side of the highway cleaning up the trash that people throw out the windows. Just not a group of people in society that many people care about… certainly don't want to hear their testimony.
And for some reason is a good dark God decides to come and communicate to them this wonderful news.
And what's he telling the rest of us by telling them and not us?
That even them. Even them.  Even they don't fall below the line of God's rescue mission. Even they are to be loved by God and the recipient of his love.
This reality, that the humble circumstances of Jesus' birth reveal that no one is below God's love, is first to be received by us as the church as wonderfully good news–the assurance that comes from that reality… for some of us have been taught a competing message.
Some of us have heard a different story than that. Some of our parents or our past churches, or past friends, or whoever it might be have told us a different story that said no for whatever reason, because of where we're from, or who we were born to, or what we've done, or what we didn't do, we're below the line somewhere.
And the good news of the birth of Jesus Christ is that reminds us and lift us up and helps us to see that we're above the line.
Some of us have been struggling with sin and the certain areas of our life long enough that we've eventually believed the lie that maybe we're below the line… and this good news of the birth of Jesus Christ lifts us above the line and reminds us that no we're not.
Some of us have loved ones that we wonder that maybe God has given up on. We care about them. We love them, but they're making dumb decisions repeatedly in their life and we wonder, are they below the line? Has God given up on them?
And the good news of Jesus Christ and the humble circumstances of his birth remind us no they're not either.
But not only is this reality a message I think should be heard by us as far as good news, but I think it's also an eye opening challenge as well.  Because it teaches us not only that all are loved by God… but the humble circumstances of Jesus' birth also reveal that we are to love all. 
And this becomes the challenge that comes out of the Christmas story.
In a moment I'm going to go through a list of examples of groups of people that you may have unintentionally allowed in your mind to slip below the line of your love. And I'm going to go through this list and it I think will be maybe potentially offensive to some of you.
And I will pray of course that you receive it with humble hearts and grace and mercy.
And I want to be clear about something… as I go through this list of people that should receive our love even though maybe some of us have left them out and put them below the line, I'm not claiming that the Bible says there's no difference between right or wrong or there aren't bad choices or good choices or anything like that.
But I am suggesting to you that our love for people is in no way at all conditional or based on how other people behave. So saying that we should love them is not saying that we think that they're doing the right thing, it's just saying that we should love people whether they're doing the right thing or the wrong thing.
So what I'm talking to you about of the idea that we should love these groups of people.
So what I want to suggest to you is that some of us have allowed people to slip below the line in our life and that does not parallel the character of God at the Christmas story
So regardless of someone's skin color; regardless of their race or ethnicity; regardless of their religious practices or beliefs; regardless of their political party; regardless of their view of America; regardless of how they got into America; regardless of their sexual orientation; regardless of their moral decisions and lifestyles… they ought to be above the line when it comes to who the church loves.
And it doesn't matter, if everyone else in your family, or in your circle of influences has taught you otherwise… the birth of Jesus Christ tells you they are above the line. God could not have communicated it any clearer–they should be the recipient of the church's love because they are the recipient of God's love.
AUDIO of above (31 min):

Link to all Pastor Dan Kirmont Sermons:
http://www.kirkmont.org/listen-to-sermons/
Listen to recent sermons
http://www.kirkmont.org/listen-to-sermons/